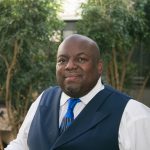 Dr. Ellen is the Senior Pastor of Community of Faith Bible Church in Houston Texas and Senior Professor of Biblical Counseling at the College of Biblical Studies. Dr. Ellen has also developed a biblical counseling training center called Expository Counseling Center LLC.
He received his B.A. in Business Administration from the University of Houston, Houston, Texas, his M.A. in Christian Education from Dallas Theological Seminary, Dallas, Texas, his M.A. in Biblical Counseling from The Masters University, Santa Clarita, California and his Doctorate of Ministry with a concentration in Biblical Counseling from Southern Baptist Theological Seminary Louisville, Kentucky. Dr. Ellen is currently a PHD student in Biblical Counseling at Southwestern Baptist Theological Seminary.
Dr. Ellen is a certified Biblical Counselor with the Association of Certified Biblical Counselors and travels nationwide with the organization teaching biblical counseling principles. Dr. Ellen also teaches on a morning show called "Up With The Son" where he teaches various topics from God's Word. In addition, He is also a Senior Member of the Biblical Counseling Framework Association. Nicolas and his wife Venessa have two children and four grandchildren.